Listed Below is a few of the Applications of the CHANCE products:
Whether you are installing Vertically or Horizontally, CHANCE® Helical Piers are your solution for both Tension and Compression Loads.  Given this verstatility, the applications of the CHANCE® Helical Pier System are Limitless!
Helical Pile (New Construction):

The CHANCE® helical pile is a segmented deep foundation system with helical bearing plates welded to a central shaft. Load is primarily transferred from the shaft to the soil through these bearing plates.
As a result of their true helical shape, the helices do not auger into the soil but rather screw into it with minimal disturbance. The first section, called the Lead (or Starter) Section, contains the helical plates. The Lead Section can consist of one to four helices.
If required, additional helices can be added with the use of Helical Extensions. Plain Extensions are then added until the Lead Section penetrates the bearing strata and the necessary or appropriate torque is achieved.
For New Construction applications, Helical Piles can be used as an alternative to traditional strip footings. After installation, the Helical Pile's shaft can be cut to the desired elevation, fitted with the appropriate New Construction cap and cast in place with the concrete grade beam. This is extremely useful in locations with expansive soils, where traditional footings may not be possible.
---
Underpinning:

Sinking foundations, cracked and buckled walls and uneven floors are problems commonly faced annually by some quarter-million homeowners. Homes and other structures situated on unstable soils settel when their foundations are subjected to extreme moisture variations or lack proper drainage. A shifting foundation may result in structural damage to your home and a loss of you investment.
The CHANCE® Helical Pile Foundation System offers a technically superior and cost-effective alternative to other remedial systems. Our system is backed more than 80 years of structural engineering experience.
The concept is founded on the principle of turning a helical (screw) pile into stable subsoil strata until the torque applied indicates that the necessary load capacity has been achieved. Adjustable brackets are then attached to the base of your foundation walls, connecting the piles to the foundation. The weight of your home is then transferred to the piles. In the process, the foundation, walls and floors are repositioned and retained from further movement.
This innovative system contrasts with other more costly and time-consuming methods which require extensive excavation that can disturb site features such as walkways and landscaping.
Our system may be installed only by contractors we ceritfy. The load-bearing steel shafts are screwed into the ground independent of the structure and their bearing or holding capacity is verified via torque correlation as the system is installed.  Underpinning is one of the many CHANCE Products.
---
Helical PULLDOWN® Micropile:

The Helical Pulldown® Micropile is a system for constructing a grout column around the shaft of a standard Helical Pier Foundation System Pile.
To begin the process, a screw anchor is placed into the soil by applying torque to the shaft. The helical shape of the bearing plates creates a tremendous pulling force that keeps the anchor advancing downward into the soil. After the lead section with the helical plates penetrates the soil, a Lead Displacement Plate and Extension are bolted onto the shaft. Resuming torque on the assembled shaft advances the helical plates and pulls the displacement plate downward, forcing soil outward to create a cylindrical void around the shaft. From a reservoir at the surface, a flowable grout immediately fills the void, surrounding and encapsulating the shaft. Additional extensions and displacement plates are added until the helical bearing plates reach competant load-bearing soil. This displacement pile system does not require removing spoils from the site.
Helical PULLDOWN Micropile PDF
---
Helical Tieback Anchors:

A pre-engineered tieback system for earth retention supplied by the largest manufacturer of anchors in the world simplifies the challenges for contractors. These tieback anchors are installed by rotating the anchors into the ground with common rotary drilling equipment.
Once the minimum depth is obtained the capacity can be determined by reading the installing torque and correlating it to the holding capacity ratio.
Capacities to 200,000 pounds per anchor are obtainable with this system. Proven on hundreds of applications these cost effective tiebacks can be tested immediately. No concrete to wait for curing! This saves time and money plus improves schedules.
The success of the screw anchor tieback system is based on decades of similar use of CHANCE anchors by electric utilities. The proven reliability and engineered predictability of the system's performance give you tiebacks that are positive, economical and hassle-free.
---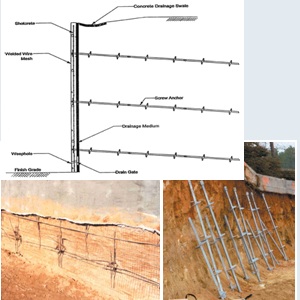 SOIL SCREW® Retention Wall System:
Bearing plates are spaced along the entire length of screw anchors. These true-spiral helices install with ease and minimal soil disturbance. Monitoring torque during installation accurately indicates expected holding capacity for predictable results. Capacity is proportional to installation torque.
The SOIL SCREW® Retention Wall System reinforces in-situ soil with screw anchors near horizontal. Anchor sizes and grid spacing are determined by soil conditions and load requirements, including intended overburden.
The System removes performance uncertainties and associated costs of grouted nails in soils of low shear strength. Screw anchors in soil act as bearing devices as opposed to grouted anchors which rely on friction between the soil and grout.
---
Shoring:
CHANCE® helical piers can be used even under the heaviest loads to meet the Shoring demands of your project. The versatility of the CHANCE® helical pier, along with its quick and easy installation procedure make it the ideal choice for your projects shoring demands. Utilizing the increased column section of the Round Shaft, materials can be removed and the existing structure safely supported as excavation continues.
---
Atlas Resistance Piers:
Atlas Resistance Piers® have been used to restore and/or stabalize homes and commercial structures that have settled due to a wide variety of soil problems. Foundation settlement and movement can be caused by building on expansive clay, compressible or improperly compacted fill soils, or improper maintenance around foundations. Whatever the cause, settlement can destroy the value of structures and render them unsafe.
Properly installed, Atlas Resistance Piers can prevent settlement, stabilize foundations and restore settled structures nearly to their original positions, often closing structural defects such as cracks and deformities caused by settlement. Because the solution is both permanent and economically attractive, the structures retain or recover their value.
---
INSTANT FOUNDATION® SYSTEM:
CHANCE® Civil Construction manufactures the Instant Foundation® System to provide resistance to lateral loads and moment loads due to wind and other load conditions. The versatility and ease of construction of the Chance® Instant Foundation® System permits great flexibility in a number of applications. Typical uses for these products are foundations for equipment pads, foundation supports for signs, supports for light standards and decorative poles, and other eccentric load applications.
---
Boardwalks:
CHANCE® helical screw anchors can be used as instant foundation systems for boardwalks. These are typically connected to the walkway using a CHANCE® U-shaped bracket, which sleeves over or into the anchor shaft dpending upon the anchor selected.
The piers are also a perfect solution for an environmentally sensitive area which typical construction traffic is prohibited. Minimal disturbance is achieved by using a hand-held torque head, or by a machine that sits on top of the walkway.
Boardwalk/Walkway Environmentally Sensitive Areas PDF
---
Telecom/Utility:
Application for guyed structures, self-supporting towers, structures substations, and switching stations are all part of the CHANCE® T/C (tension-compression) foundation and guy anchor product line. Applications in sensitive areas, high water tables, difficult access as well as normal soils make the CHANCE T/C foundation a priority in transmission line construction.
The CHANCE® guy anchor, Type SS, made with AB CHANCE® proprietary high strength steel can have capacities to 200,000 pounds tensile load. These anchors have been field proven over decades of service under the severest conditions.
---
Solar/Energy:
Helical piles work well in both compression and tension, they are ideally suited for conditions inherent to energy-related construction sites, particularly those associated with solar projects. The piles resist the axial forces, shear, and moment forces generally associated with wind loading.
Another advantage of using helical piles is the lack of spoils from contaminated soils and the ability to avoid grading and other groud disturbances. As developers of alternative energy projects will attest, it is important to maintain the sites as naturally as possible.
---
Mooring Anchors:
Mooring fields for municipal and private harbors are a cost effective way to safely store your boats.
CHANCE® Mooring Screw Anchors can offer a simple, economical mooring for boats requiring holding capacities to 100,000 pounds or even more. These moorings are so effective that in areas subject to hurricanes, special incentives are often offered by insurance companies to boat owners who use these moorings.
CHANCE® Screw Anchors are installed into the harbor bottom by either work boats or divers using hydraulic rotary installing equipment with anti-torque devices. The bearing plates are installed through the silt to good bearing soils and the chains or lines are connected to the mooring or platforms above. The same anchors are used in the fast growing aqua-culture field holding fish cages securely to the ocean bottoms.
---
Pipelines:
Pipeline Screw Anchors provide an excellent answer for stabilization of oil, gas, and other pipelines utilizing CHANCE Products. Buoyancy of pipelines is a major concern in the design and constuction of all pipelines. In water or mud, an empty pipeline with diameter greater than 12 inches can push itself to the surface if it has not been anchored. Economics and engineering evaluations show that screw anchors are the predictable, measurable, and economical means for pipeline stabilization.